Anti-GFP Antibodies: Tools to Study Erebosis
More and more cell death mechanisms are being discovered at an increasing rate. One of the newest members is erebosis, which was first described in the April 2022 issue of PLoS Biology by Ciesielski et. al.1. This novel form of cell death was found in the Drosophila intestine and was named after the Greek word έρεβος, meaning "deep darkness".
Gut epithelial cells such as enterocytes are in a constant state of renewal. However, cells dying by apoptosis were always difficult to detect in this environment. With new methods and the use of Rockland's anti-GFP antibody #600-901-215, researchers from Japan were able to discover an alternative signaling pathway featuring the accumulation of angiotensin-converting enzymes. During their staining analysis with DAPI, Hoechst, GFP, and RFP, it emerged that DNA staining was occasionally weak, while staining with fluorescent proteins was gradually lost in this process. The loss of signal started with cytoplasmic GFP, nuclear GFP, and lastly nuclear RFP. This observation raised the question of whether these proteins are denatured or degraded. Fortunately, this question could be easily answered with GFP and RFP antibodies that detect denatured but not degraded proteins. Consistent with other experiments shown in the paper, this proved that the loss of signal was due to degradation. In addition, flat nuclei, and loss of cytoskeleton and cell organelles add to the features of erebosis (see figure). The authors speculate that erebosis is a coordinated cell death mechanism that enables the enterocyte flux under normal physiological conditions.
The observation of gradual GFP and RFP loss in erebosis makes fluorescent proteins and antibodies targeted against them versatile tools in the study of this new form of cell death. Utilizing these tools might also help to discover even more cell death pathways. As Andreas Bergmann aptly summarizes in his commentary on the first publication of erebosis: "Although there are over a dozen types of cell death known, there is clearly more to discover in this field."2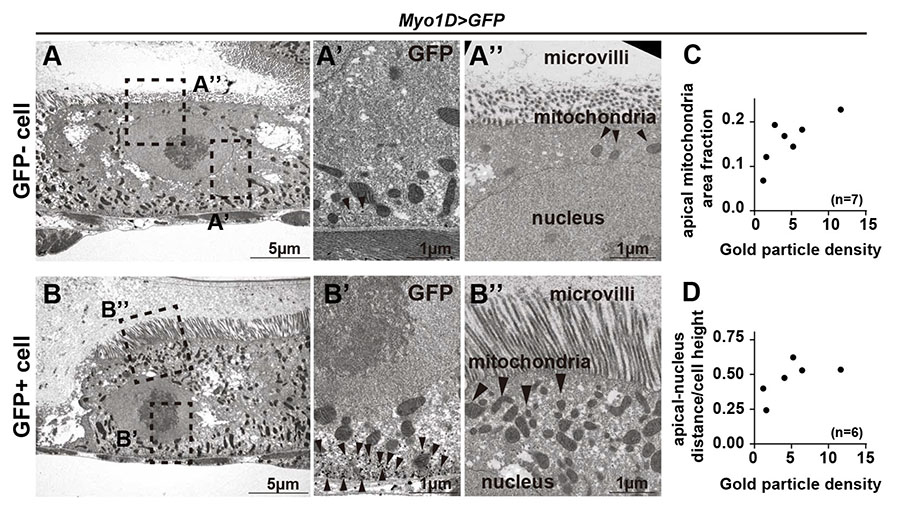 Figure: Immuno-electron microscopy of (A) GFP-negative and (B) GFP-positive cells using Rockland's anti-GFP antibody #600-901-215. Arrowheads in (A') and (B') indicate sparse GFP labeling in GFP- cells. (A'') Erebotic cells show short microvilli and fewer mitochondria when compared to (B'') GFP+ cells. (Image used under CC BY 4.0 from Ciesielsi et. al.)
Anti-GFP Antibodies
| | | | |
| --- | --- | --- | --- |
| Product | Clonality | Reactivity | Applications |
| GFP Antibody | Polyclonal | eGFP, rGFP, WT | WB, IHC, IF, Dot Blot, Purification, ELISA |
| GFP Antibody | Polyclonal | eGFP, rGFP, WT | WB, IHC, IF, IP, EM, FC, FISH, Purification, ELISA |
| GFP Antibody | Polyclonal | eGFP, RS-GFP, S65T-GFP, WT, YFP | WB, IHC, IF, IP, EM, Purification, ELISA |
| GFP Monoclonal Antibody | Monoclonal | eGFP, rGFP, WT | WB, IHC, IF, IP, ChIP, FC, Dot Blot, ELISA |
| GFP Antibody Dylight™ 488 Conjugated Pre-Adsorbed | Polyclonal | eGFP, rGFP, WT | WB, IHC, IF, IP, FC, Dot Blot |
Related GFP Products
References
Ciesielski, H. M., Nishida, H., Takano, T., Fukuhara, A., Otani, T., Ikegawa, Y., Okada, M., Nishimura, T., Furuse, M., & Yoo, S. K. (2022). Erebosis, a new cell death mechanism during homeostatic turnover of gut enterocytes. PLoS biology, 20(4), e3001586