HCP Antibodies
Leverage Rockland's 15+ years of success generating custom polyclonal host cell protein antibodies (HCP antibodies) to keep your biopharmaceutical development program meeting deadlines and moving efficiently.
Our comprehensive, fully customizable services cover all aspects of anti-HCP antibody generation, from antigen preparation and assay development to documentation and manufacturing, with an end-goal of creating a broad immune response as measured by a high percent of coverage on a 2D Western blot.
Whether you need support from start-to-finish or are only outsourcing small parts of the project, you can be confident when you partner with Rockland.
Choose Rockland when you need quality and efficiency
Rockland's HCP Antibody service combines expertise with optimized processes to maximize quality, coverage, and speed.
Consistent—Minimize lot-to-lot variability and ensure long term supply chain with well-managed antisera pools
High-quality—Maximize repeatability and safeguard quality with our rigorous testing and multi-validation studies
Scalable—Experience stable large-scale manufacturing with our strong internal processes
Transparent—Maintain visibility into your project with all development and manufacturing conducted at our US-based facility
Experienced—From initial intake to manufacturing and shipping, our experienced scientists, project managers, and logistics team ensure accuracy and efficiency
HCP Antibody Generation Timeline (Months)
1
2
3
4
5
6
7
8
Setup
Immunization & Boost
Reagent Generation
Sampling & Analysis
Reagent Qualification
---
Fully customize your anti-HCP antibody generation service
Choose all-inclusive anti-HCP antibody generation or select only the services you need.
Antigen Preparation
Product Platform: E. Coli, Yeast Insect, Plant, & Mammalian
Fractionation
Ultrafiltration
Crosslinking & Conjugation
Antisera Generation
Standard Protocol
Size Fractionated Immunogen
Cascade Immunogen
Rabbit, Goat, Chicken, Sheep
Reagent Characterization & Analysis
ELISA
1D SDS & Western Blot
2D SDS & Western Blot
Reagent Qualification
Coverage Analysis & Characterization
Assay Development
Scouting Study
Bridging Study
Process Specific HCP Assays
Multiple Platform Support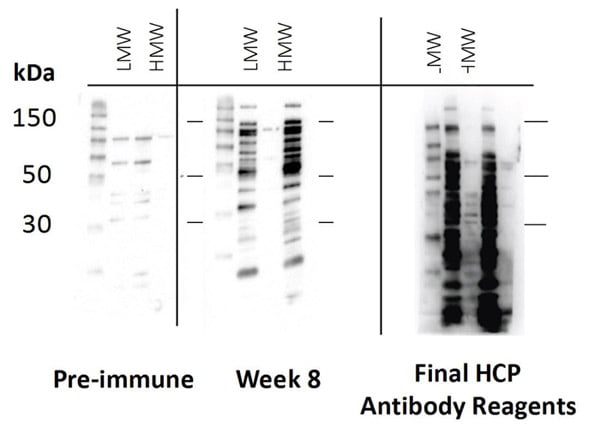 See the strong, uniform signal of a final HCP antibody reagent
We use 1D SDS-PAGE followed by Western blot analysis on test and production bleeds to evaluate the host antibody-mediated immune response to HCP lysate.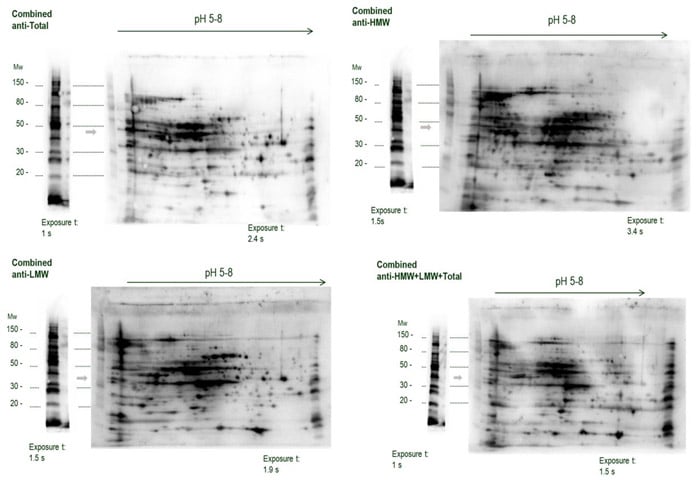 We also evaluate HCP antibodies with 2D PAGE and Western blotting
We can also conduct 2D SDS-PAGE followed by Western blotting. 2D separation can deliver more complete insight into an anti-HCP antibody's coverage of proteins in the host cell lysate than 1D SDS-PAGE and Western blotting
Learn about the HCP antibody generation process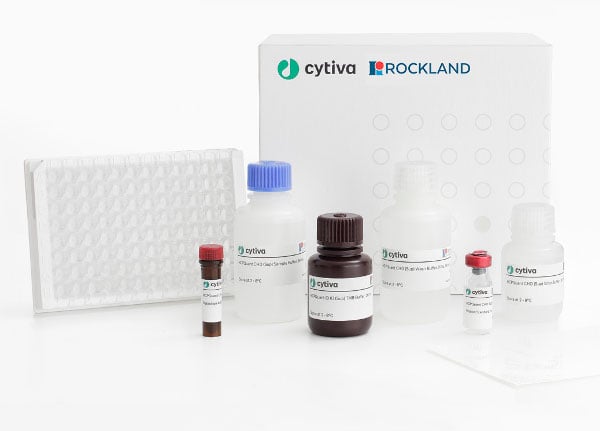 Amersham™ CHO HCP Kits
Mitigate risk of host cell protein contaminants with generic CHO HCP ELISA kits developed and validated in partnership with Cytiva Life Sciences.
Learn more