Qualification & Validation
Ensure that your proteins and antibodies are ready for use with qualification and validation performed by the experienced scientists at Rockland. We work with you to develop and execute an effective protein and antibody validation and/or qualification plan that is informative and adheres to the most rigorous scientific standards.
Our Validation & Qualification Capabilities
We have a comprehensive suite of assays that we can leverage for ensuring the purity, activity, and integrity of your reagent, including:
SDS-PAGE
Western blotting
Dot blot
ELISA
BCA Electrophoretic mobility shift assay (EMSA)
Ligand binding assays
Biotin detection
Endotoxin detection
Mycoplasma detection
Precipitin test
And more!
Certain assays can be performed using FDA-approved reagents, and every project comes with detailed reporting. Learn more about our complete capabilities and how we can support your project by contacting us.
---
Adhering to the Highest Standards
Driven by science and committed to quality, Rockland's protein and antibody validation and qualification team is proud to deliver the highest quality work for both external customers and Rockland's own products. We operate with the highest levels of integrity—it's what our customers and your customers rely on—and we fully communicate what the assays tell us, whether it's good news or not.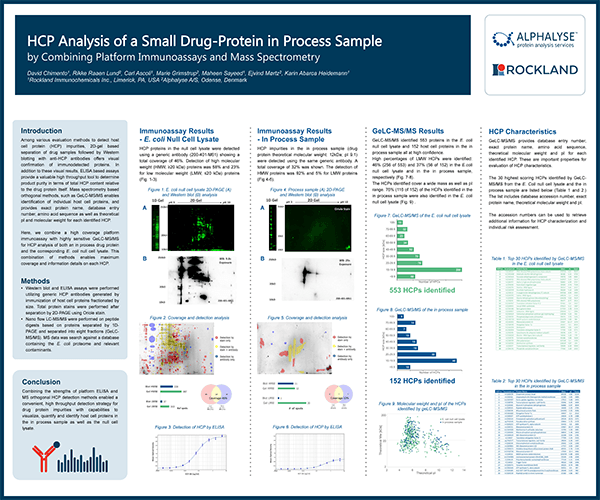 HCP Analysis of a Small Drug-Protein in Process Sample