Protein Expression & Purification
Receive the highly purified proteins, antigens, and antibodies that are critical to your work when you engage with the experienced protein expression and purification services team at Rockland. We can express the target protein for you using the overexpression platform of your choice, or you can send us the source material and the target protein will be thoroughly purified from contaminating proteins using processes optimized for your project's needs.
Protein Expression Services
Recombinant gene constructions can be generated and produced in your expression system of choice, so you consistently get the amount of protein you need for your next experiment.
Bacterial
Our experienced team can optimize our bacterial protein expression systems using cultures of E. coli to deliver your protein of interest.
Insect Cells
Reliable recombinant proteins can be generated in our baculovirus expression system and amplified using sf9 cells.
Mammalian Cells
We will transiently transfect the gene of interest into mammalian cells (e.g., CHO or HEK293) to produce recombinantly expressed protein that we purify to your specifications. Optimization of expression can be performed if needed. Cell culture scale ranges from small (e.g., 50 mL) to large >5 L) and various purification schemes can be employed depending on your construct and needs.
In addition to expressing and isolating your target proteins, our team can expand and cryopreserve your cell lines, DNA plasmids, or mRNA, so you can continue to get the amount of protein you need when you need it.
---
Antibody and Protein Purification
By partnering with Rockland, you'll get reliable protein purification services for native and recombinant proteins, as well as for antibodies—including challenging fragments and modified proteins. We can purify native and recombinant proteins using materials that you supply or using materials we generate in-house.
If you need to go beyond purification to get proteins that are further modified by chemical or enzymatic treatments, such as crosslinking or digestions, we offer a range of antibody and protein modification services.
To ensure protein purity and integrity, we run a range of standard assays including SDS-PAGE. We can also perform custom assays as needed, including mass spectrometry and analytical HPLC.
We can implement a range of protein purification technology:
Poly His Tag protein purification
GST protein purification
Custom protein purification
Affinity purification
HPLC purification
HPLC Analysis
Concentration by ultrafiltration
Custom Lyophilization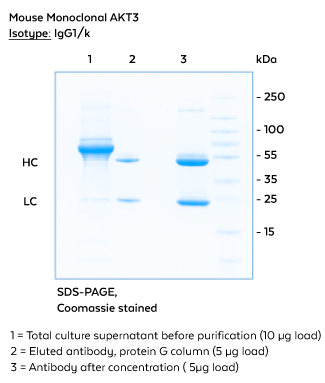 Protein A, G, and A/G Purification
Get highly purified polyclonal and monoclonal antibodies—even for antibodies whose subclasses have not been determined.
We use Protein A, Protein G, or Protein A/G affinity chromatography with optimal conditions based on isotype specificity and various antibody binding moieties (e.g., Protein L, which binds to the antibody kappa chain) to reliably deliver high-quality antibodies.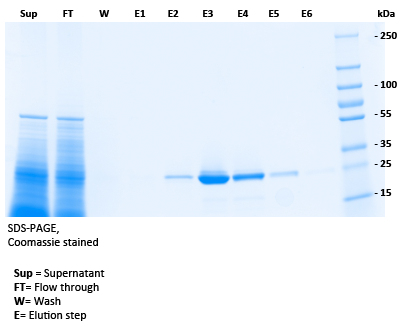 Recombinant Protein Purification
Get your recombinant fusion proteins or epitope tagged proteins purified by affinity chromatography using charged or immobilized resins.
For your projects requiring exceptional purity, we offer ion exchange or size exclusion protein purification services.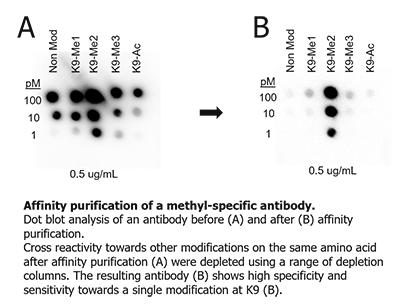 Affinity Purification of Antibodies
Use our services to isolate antibodies from antiserum, plasma, serum, tissue extracts, and tissue culture or microbial supernatants.
We can also generate custom affinity resins to immobilize target-specific compounds, peptides, or recombinant proteins to affinity purify antibodies from various fluids or deplete antibodies from these preparations.