Bio-Layer Interferometry Services
Octet® R4 System
Rockland can help you select the best antibody or protein for your assay by providing label-free analysis using the Sartorius Octet® R4 System. Use it as part of your assay development program or as a stand-alone service.
Octet® Bio-Layer Interferometry
The label-free Bio-Layer Interferometry (BLI) technology enables the direct detection of specific proteins and other biomolecules in complex mixtures like crude cell culture supernatants and lysates. BLI uses optical-based biosensors to convert biological binding reactions into signals without the use of a detection label. This allows real-time monitoring of changes that occur when an analyte binds to a ligand immobilized on a biosensor surface and eliminates the need to manipulate individual assay components. The system can be used for a wide range of analyses including kinetic analysis, quantification of IgGs and other proteins, immunoassay development, epitope binning, and ligand binding assays.
Kinetic Analysis
The Octet® R4 system allows the measurement of binding events in real-time to determine turn-on rates (ka), turn-off rates (kd) and affinity constants (KD).
Figure: Binding mode and kinetic analysis of Mouse Anti-HbS Antibody. Using Octet® R4, a series of nine (9) concentrations of Mouse Anti-HbS Antibody (3.0 nM-2.2 µM) were immobilized on an AR2G biosensor and exposed to 20 µg/ml HbS protein. Each colored curve represents the acquired signal of its antibody concentration. The interaction features reproducible duplicate injections and fits to a 1:2 bivalent kinetic model. The association constant (ka=32x103M-1s-1) and dissociation constant (kd=8.74x10-4s-1) values are depicted in the graph. The assay was performed as per the manufacture's protocol.
Protein Quantification
Faster and more accurate than ELISA, the Octet® R4 system directly measures the presence of specific proteins and other molecules in solution with minimal interference from complex matrices.
Figure: Fitting of kinetic data to bivalent binding site model. Steady-state signals (blue-filled symbols) are fitted to a bivalent binding site model (blue line). A 4-parameter non-linear regression curve fit was used for the integration of the data. The Mouse Anti-HbS Antibody presents a KD=27 nM (affinity constant) to HbS protein.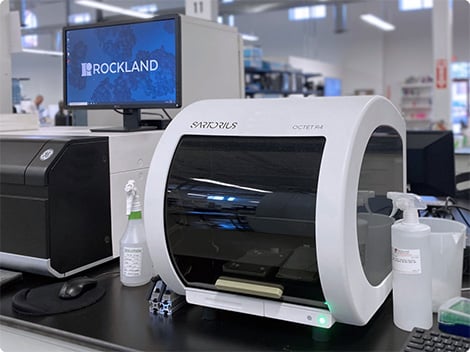 Octet® R4 System
| | |
| --- | --- |
| Detection Technology | Bio-Layer Interferometry (BLI) |
| Sample Type | Proteins, antibodies, peptides, DNA, RNA, liposomes, viruses, and VLPs in various media including serum, buffers containing DMSO, periplasmic fractions, untreated cell culture supernatants, and crude cell lysates. |
| Information Provided | Yes/No binding - Kinetic and affinity analysis (kobs, ka, kd, KD) - Specific and selective detection of molecules, even in crude samples - Relative and absolute quantitation of specific proteins in crude matrices or purified samples. |
| Number of Spectrometers | 4 |
| Maximum Simultaneous Reads | 4 |
| Sample Volume | 180–220 µl/well, non-destructive testing |
| Plate Type | 96-well |
| Orbital Flow Capacity | Static or 100–1500 rpm |
| Analysis Temperature Range | 15°C to 40°C, in 1°C increments |