HCP Assay Development
Maximize efficiency by combining host cell protein (HCP) antibody generation with HCP assay development from the proven team at Rockland.
With over 15 years of experience developing HCP antibodies and assays, we understand what's needed for success and have a number of proven reagents that are ready to use or quickly customize for your project, including our Amersham™ HCP CHO Solution. Every project includes comprehensive documentation and traceability to satisfy FDA requirements.
A Typical HCP Assay Development Workflow
At Rockland, we understand the complexities involved in developing an assay to monitor HCPs and optimize all the critical parameters for your specific program. For example, many HCP assays need to be performed at multiple stages of bioprocessing development and manufacturing, and therefore need to deliver robust performance on samples at varying concentration ranges and in different matrices, such as low pH, high buffer concentrations, or final formulation.
To account for this complexity, we've spent decades developing an optimized HCP assay development process that successfully delivers a rigorous assay within the required timeline. An example of a typical project is shown below:
Step I: Assay Configuration using Soluble Extract diluted in PBS
Note: The same HCP antibody may be used as the capture antibody when unconjugated and as the detection antibody when conjugated with either biotin or peroxidase.
Conjugate purified antibody (peroxidase) and validate reagent by ELISA and Western blot
Optimize capture antibody and detection antibody concentration for use in an ELISA
Develop assay standards for ELISA Assess optimized reagents for detection of the HCP extract in phosphate buffered saline (PBS)
Assess antibody combinations using the HCP soluble extract in dilute buffer (containing BSA or similar blocking agent) to determine initial working dilution ranges of antibody and antigen
During the assay configuration process, we typically optimize the following conditions:


Concentration
Time
Temperature
Blocking
Detergents
Buffer
Ionic Strength
Conjugate Reporter
Step II: Limit of Detection (LOD) and Assay Validation
Determine reactivity by applying optimized antibodies (PAb-PAbpair) from Step I to micro titer plates. This allows us to determine reactivity to proteins at concentrations in the predetermined detection range. Note: Alternative labeling approaches, such as the use of biotin/streptavidin, luminescent substrates, and fluorescent substrates are available.
Analysis of matrix effects
Analysis of assay accuracy and precision
Determination of antigen limit of detection (LOD) of configured assay
Full protocol and reporting are included for HCP assay development projects
Learn more about HCP Assay Development
Learn more about what an HCP assay is and how Rockland approaches HCP assay development with David Chimento, PhD, Vice President of Client Solutions.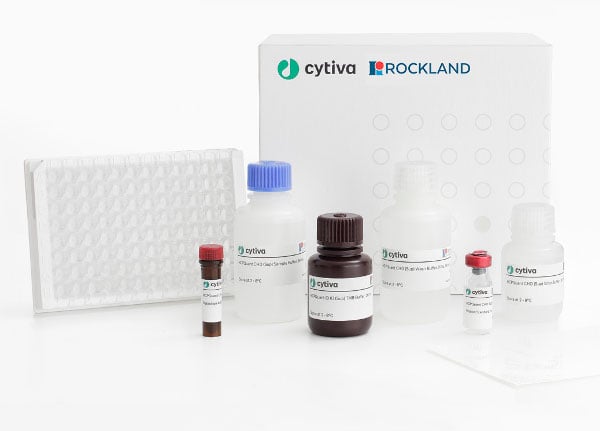 Amersham™ CHO HCP Kits
Mitigate risk of host cell protein contaminants with generic CHO HCP ELISA kits developed and validated in partnership with Cytiva Life Sciences.
Learn more