Biopharma
Rockland provides customizable options for the development of antibodies, assays, and supporting reagents to accurately reflect the quality of biopharmaceutical products from early- to late-stage bioprocessing, verifying safety and accuracy. With every project, documentation and traceability are provided to ensure FDA requirements are satisfied.
Rockland Partners With JIB
Rockland is proud to partner with the Jefferson Insitute For Bioprocessing (JIB). JIB offers early phase pre-clinical process development, product and technology development and evaluation, analytical, and quality control. This collaboration expands Rocklands offering in bioprocess control strategies, providing quality products and services for cell, gene, and RNA therapies.
Learn More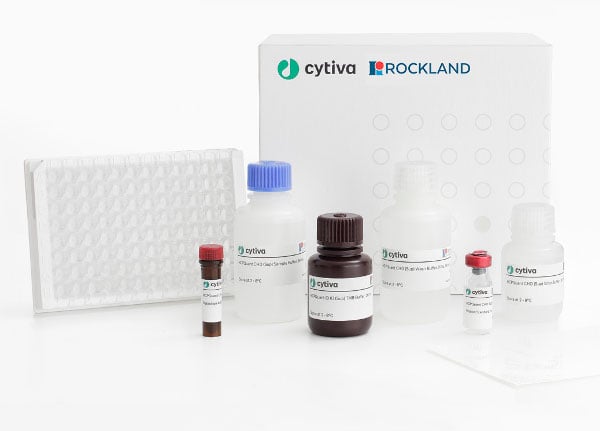 Amersham™ CHO HCP Kits
Mitigate risk of host cell protein contaminants with generic CHO HCP ELISA kits developed and validated in partnership with Cytiva Life Sciences.
Learn more
60+ Years of Experience
Rockland has been a trusted provider of critical reagents and services for over 60 years, with expansive knowledge and experience in all phases of product development
Secure Supply Chain
Every aspect of manufacturing is completed with fully traceable manufacturing processes and quality assurance systems
US-based Manufacturing
Our in-house R&D and manufacturing capabilites allow for reproducibility and minimal lot-to-lot variability
Full-Service Provider
Novel assays can be created start-to-finish with our antibody and reagent generation and assay development and validation services
Worldwide Distribution
Our experienced logistics teams are able to distribute small- and large-scale orders accurately and efficiently worldwide
Rigorous Testing
Our products conform to high quality standards with rigorous product testing and multi-validation for quality and consistency
What our customers are saying
"I like Rockland's flexibility. There's only a few companies that I would say do a good job at the HCP reagent development. Not only did we have a good plan and a good working relationship and a reasonable budget, etc., but they did good work. They figured it out... they're very, very good at assays like immunoassays. They understand those extraordinarily well."


Senior Manager
Biopharma company
What our customers are saying
"Excellent expertise for antibody purification."


Principal Scientist
Biopharma company