TIDES USA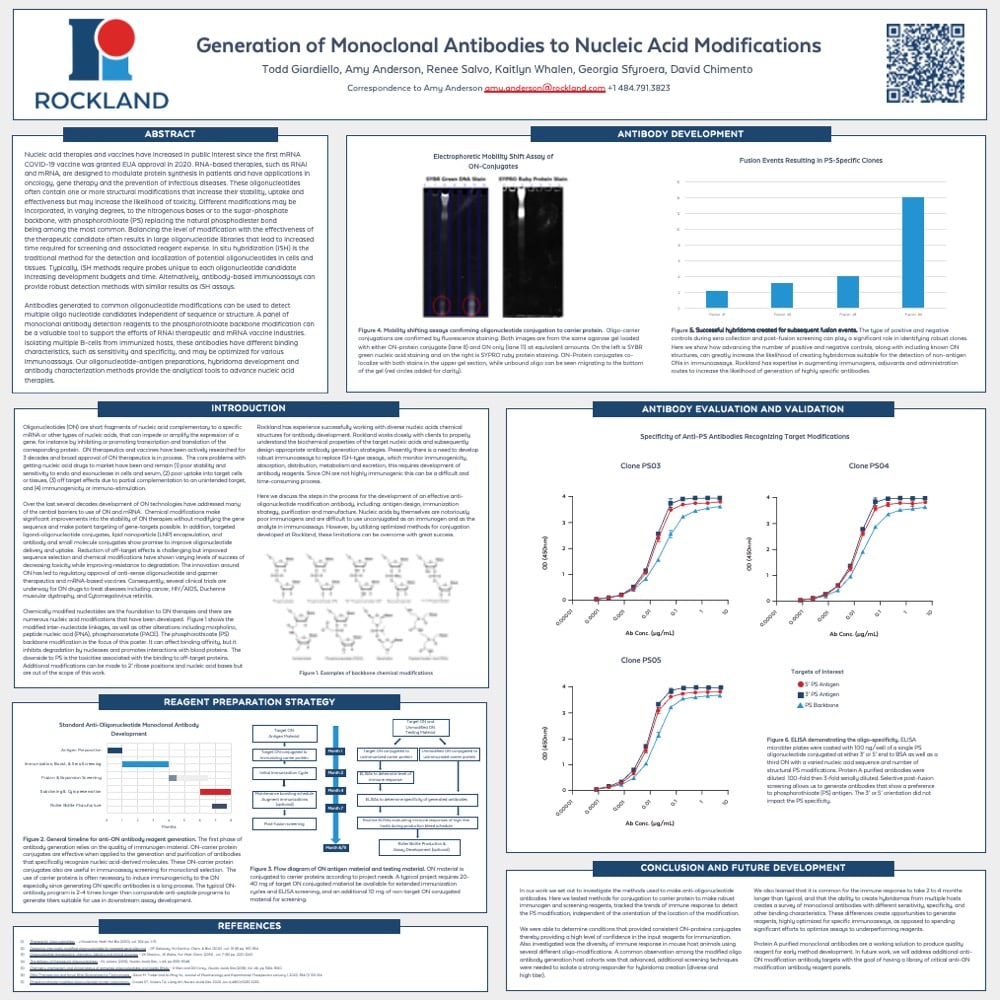 Generation of Monoclonal Antibodies to Nucleic Acid Modifications
Antibodies generated to common oligonucleotide modifications can be used to detect multiple oligo nucleotide candidates independent of sequence or structure. A panel of monoclonal antibody detection reagents to the phosphorothioate backbone modification can be a valuable tool to support the efforts of RNAi therapeutic and mRNA vaccine industries. Isolating multiple B-cells from immunized hosts, these antibodies have different binding characteristics, such as sensitivity and specificity, and may be optimized for various immunoassays. Our oligonucleotide-antigen preparations, hybridoma development and antibody characterization methods provide the analytical tools to advance nucleic acid therapies.
DOWNLOAD TIDES 2023 POSTER
Schedule a meeting with us at TIDES
Fill out the form to coordinate a meeting with a Rockland representative at the show.
Request a meeting
About Rockland
Established in 1962, Rockland is a global biotechnology company developing leading-edge analytical tools for biologics, and cell, gene, and RNA therapy development. We specialize in fully customized, fit-for-purpose, anti-oligonucleotide antibodies as a contract research service or by way of immediately available specialty reagents.
With 60+ years of experience in antibody development, Rockland has a proven track record in producing effective antibodies against various nucleic acid/oligonucleotide targets and modifications, including both modified backbones and nucleosides. In addition to custom-generated anti-oligonucleotide antibodies, we have recently introduced ModDetect™ specialty reagent panels, the very first collection of specialty reagent panels that detect common nucleic acid modifications independent of the sequence or location.
Rockland's USA-based R&D, manufacturing, and raw material facilities allow us to fully develop, optimize, and validate every analytical tool, ensuring supply chain security and protection of client confidentiality and intellectual property. Plus, our portfolio of over 4 million antibodies and reagents curated through the antibodies-online.com platform gives our clients a unique breadth of products with unmatched data sets to advance the development of complex therapies.