Contributed by Focus Biomolecules
Among the many ways in which cells can die, necroptosis is a caspase-independent form of programmed cell death induced by certain changes in cellular homeostasis and when apoptosis is blocked1. It has roles in normal biological processes (inflammation, wound healing, combating infectious disease) as well as disease states (cancer, chronic inflammation)2. In fact, necroptosis can protect or kill tumor cells, depending on the context3.
Necroptosis can be viewed as a combination of apoptosis and necrosis4. It begins with external or internal triggers such as TNFα, TRAIL, interferon γ, genotoxic stress, viral DNA/RNA, bacterial LPS, or caspase 8 inhibition. These signals are transduced by receptors and binding proteins such as the toll-like receptor (TLR), tumor necrosis factor receptor 1, FAS, or Z-DNA binding protein 1 (ZBP1)2. The most understood pathway is the one beginning with TNF-α binding to its receptor, TNFR1 (see figure). Briefly, this results in the formation of complex I, which comprises RIPK1, TRADD, TRAF2 & -5, cIAP1 & -2, and LUBAC. If RIPK1 is polyubiquitinated by cIAP1/2 and LUBAC, cell survival is achieved by activation of the NF-κB pathway4. If instead RIPK1 is deubiquitinated by CYLD or A20, TRADD and RIPK1 are released and form either complex IIa (TRADD, FADD, and RIPK1) or complex IIb (FADD, RIPK1). If caspase 8 is present and active, apoptosis ensues via complex IIa or IIb. However, if caspase 8 is inhibited or absent, RIPK3 is recruited, causing RIPK3 oligomerization and autophosphorylation5. RIPK3 then phosphorylates MLKL, causing its oligomerization, which induces (among other things) Ca2+ influx via TRPM76, promoting cell membrane perforation and eventually necroptosis5. Alternatively, in the presence of reactive oxygen species (ROS) RIPK1 autophosphorylation recruits RIPK3 to form the necrosome, again leading to necroptosis7.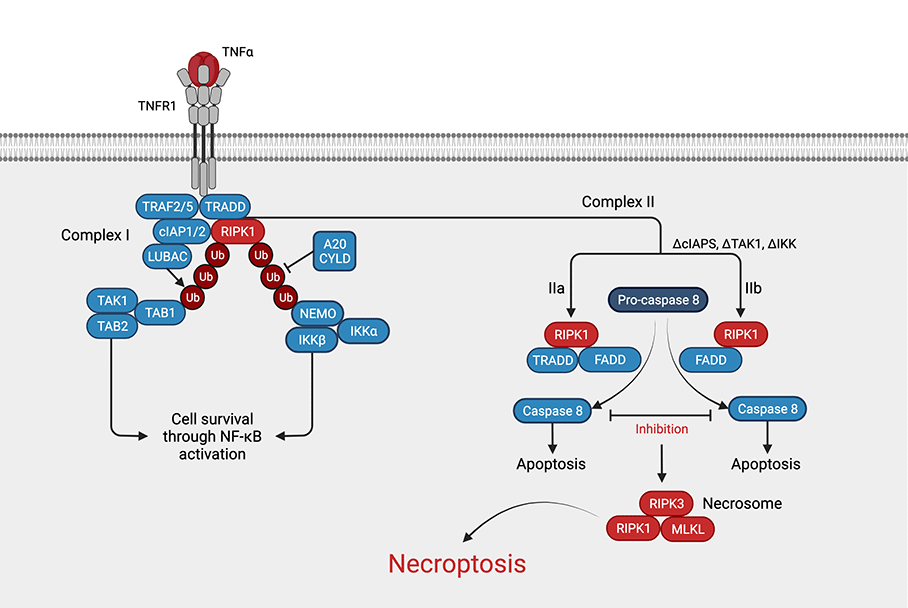 Figure: Necroptosis pathway. Necroptosis can be induced by various stimuli such as TNFa. In short ubiquitination of RIPK1 leads to cell survival through activation of NF-kB, whereas deubiquitination of RIPK1 leads to the formation of complex II. The necrosome, a complex consisting of RIPK1, RIPK3, and MLKL is formed from complex IIa or IIb by inhibition of caspase 8. (Adapted from Chen et al., 2019, created with BioRender.com)
Components of necroptosis can overlap with other forms of cell death. For example, parthanatotic death is driven by DNA damage, and its pathways can involve RIPK1 and RIPK3 stimulation of PARP18. NETotic cell death can be blocked by RIPK1 or MLKL small molecule inhibitors9. Also, autophagy can mediate necroptosis via formation of necrosomes on autophagosomes10.
Necroptosis is a key player in pathologies such as neurodegeneration, inflammation, kidney damage, and cancer (proliferation, invasion, angiogenesis, metastasis)2, thus many small molecule modulators of necroptotic pathways have been developed for use as research tools and therapeutics4. For example, Necrostatin-1 (Nec-1) and RIPA-56 are potent and selective inhibitors of RIPK1, while Ponatinib inhibits both RIPK1 and RIPK3. Necrosulfonamide has a different mechanism of action, specifically blocking the interaction of MLKL with RIPK3. Compounds like these are important tools for necroptosis research, and many are currently in clinical trials for cancer, colitis, arthritis, psoriasis, Alzheimer's, and ALS4.
Necroptosis Reagents (Provided by Focus Biomolecules)
| | | | |
| --- | --- | --- | --- |
| Product | Activity | CAS | Formula |
| 7-Cl-O-Nec1 | RIP1 Inhibitor | 852391-15-2 | C13H12ClN3O2 |
| GSK872 | Necroptosis Inhibitor, RIP3 Inhibitor | 1346546-69-7 | C19H17N3O2S2 |
| Matrine | Necroptosis Inducer | 519-02-8 | C15H24N2O |
| Necrostatin-1 | RIP1 Inhibitor | 4311-88-0 | C13H13N3OS |
| Necrosulfonamide | MLKL Inhibitor | 1360614-48-7 | C18H15N5O6S2 |
| Ponatinib | Multikinase Inhibitor | 943319-70-8 | C29H27F32N6O |
| RIPA-56 | RIPK1 Inhibitor | 1956370-21-0 | C13H19NO2 |
Necroptosis Antibodies
| | | | |
| --- | --- | --- | --- |
| Product | Clonality | Reactivity | Applications |
| A20 Antibody | Monoclonal | Human | WB, IHC, IF, IP, FC |
| CIAP Antibody | Polyclonal | Human, Mouse | WB, IHC, IF, ELISA |
| FLIP Antibody | Polyclonal | Human, Mouse, Rat | WB, IHC, IF, FC, ELISA |
| IKB alpha Antibody | Polyclonal | Human, Mouse, Rat | WB, EMSA |
| IKK alpha Antibody | Polyclonal | Human | WB, IHC, IF, ELISA |
| IKK alpha Antibody | Polyclonal | Human | WB, IHC, IF, ChIP, IP, FC |
| IKK beta Antibody | Polyclonal | Human, Mouse | WB, IHC, IF, IP, FC |
| IKK beta Antibody | Polyclonal | Human, Mouse, Rat | WB, IHC |
| NEMO/IKK-gamma Antibody | Polyclonal | Human | WB, IP |
| NFkB p65 Antibody | Polyclonal | Human | WB, IHC, IF, EMSA, ELISA |
| NFkB p65 Antibody | Polyclonal | Human, Mouse | WB, IHC, IF, ChIP, IP, EMSA, ELISA |
| Recombinant Anti-TNF alpha Fab Antibody | Recombinant Monoclonal | Human | WB, ELISA |
| RIPK1 Antibody | Polyclonal | Human, Mouse, Rat | WB, IHC, IF, ELISA |
| RIP3 Antibody | Polyclonal | Human, Mouse, Rat | WB, IHC, IF, IP, ELISA |
| TAB1 Antibody | Polyclonal | Human, Mouse | WB, IHC, IF, ELISA |
| TAB2 Antibody | Polyclonal | Human | IHC, ELISA |
| TAK1 Antibody | Polyclonal | Human, Mouse, Rat | WB, IF, ELISA |
| TLR3 Antibody | Monoclonal | Human, Mouse | WB, IHC, IF, ELISA |
| TLR3 Antibody | Polyclonal | Human | WB, IHC, IF, IP, FC |
| TLR4 Antibody | Polyclonal | Human | WB, IHC, ELISA |
| TLR4 Antibody | Monoclonal | Human, Mouse, Rat | WB, IHC, IF, ChIP, FC, EMSA, ELISA |
| TNF alpha Antibody | Polyclonal | Human | WB, IHC, IF |
| TNF alpha Antibody | Polyclonal | Mouse | WB, IHC |
| TRAF2 Antibody | Polyclonal | Human, Mouse, Rat | WB, IHC, IP, ELISA |
References