BEBPA
Orthogonal HCP ELISA Characterization and Supply
Control Strategy to Support Marketed Drug Product
Use of a generic off-the-shelf HCP ELISA has several challenges both before and after it is validated for use in bioprocess monitoring. First, it is difficult demonstrate that an HCP ELISA is fit-for-purpose to use in bioprocess control strategy and second consistent long-term reagent supply is an established risk for HCP ELISAs.
To validate HCP reagents, ELISA and 2D coverage are common orthogonal techniques that together demonstrate that the anti-HCP ELISA is fit for purpose. Mass spectrometry provides another way to assess HCP impurities, and unlike ELISA provides identification of the individual HCP proteins. As such mass spectrometry is now commonly used as both a primary and an orthogonal method for HCP assessment along with 2D "DIGE/DIBE immunoblots and ELISA.
Here we describe the characterization of a generic CHO HCP assay using standard methods of 2D, ELISA, coupled with an orthogonal LC-MS analysis of the HCP standard and the evaluation of potential problematic HCPs as part of the qualification. We also propose recommendations for demonstrating fit-for-purpose to the specific bioprocess and for securing long term HCP reagent supply to reduce the risk of premature critical reagent depletion.

Presentation given by: Rob Hooper, Senior Research Scientist
(Day 1: Implementation of HCP ELISAs: Commercial, Platform, & Process-Specific Assays Session)
Come to our workshop!
Monday, May 22 | Workshop: 2 ELISA Critical Reagent Generation and Qualification
Panelists:
Denise Krawitz, Principal Consultant, CMC Paradigms LLC
Robert Hooper, Senior Scientist, Rockland Immunochemicals
Stefan Sommerschuh, Head of Immunoassay Department, BioGenes GmbH
Eric Bishop, VP of Research and Development, Cygnus Technologies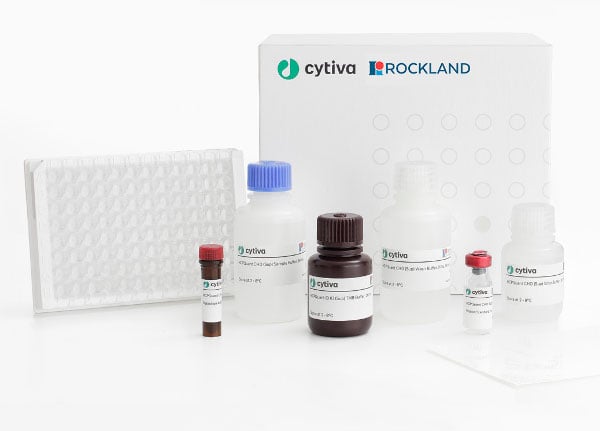 Impurity Detection ELISA Kits
Mitigate risk of host cell protein impurities with generic HCP ELISA kits developed and validated in partnership with Cytiva Life Sciences.
Learn more
Schedule a meeting with us at BEBPA
Fill out the form to coordinate a meeting with a Rockland representative at the show.
Request a meeting
About Rockland
Established in 1962, Rockland is a global biotechnology company developing leading-edge analytical tools for biologics, and cell, gene, and RNA therapy development. We a leader in the development of analytical reagents for the pharmaceutical and biopharmaceutical industries, providing tools and support to better manage process development methods and quality control testing.
For over 15 years, Rockland has been specializing in process-specific antibodies and assays for the detection of host cell proteins. Our portfolio includes generic, well-characterized anti-HCP antibodies that have been purified and multi-assay validated using methods such as ELISA and 2D Western blot to ensure maximum coverage. We also provide custom antibody generation services to produce process-specific reagents for early- to late-stage bioprocessing for quick and precise detection of host cell protein impurities.